Site news
How to Buy Cheapest EVE Echoes ISK at MMOPIXEL?
Online games are rapidly attracting gamer around the world. The ability to create a new world, the battle against enemies and kill the rivals gives the feeling of accomplishment and pleasure that is hard to understand by others. There is a huge variety of games available online that you can enjoy playing. However, there are only a few that are famous and people are ready to take this gaming trend to the next level. A game that has attracted many is EVE Echoes.
EVE Echoes
EVE Echoes is one of the best games available online which comes with various amazing scenes and details. This game supported 7 languages including English, Russian, Chinese, German, French, Spanish and Portuguese, which shortens the social distance and communication Barriers of players from all over the world. EVE Echoes is not the only spin-off game based on the EVE Online universe. In fact, CCP recently canceled a shooter under the development title of Project Nova.
Why select MMOPIXEL to buy golds for EVE Echoes?
No doubt that obtain ISK in EVE Echoes is not as easy as it seems like. They are very expensive which means that you will be out of your budget. However, if you are planning to wait you might have to wait for many hours only to get a restricted number of ISK. The best solution for this problem is to Buy EVE Echoes ISK from MMOPIXEL. It is the most reliable and cost-effective platform where you can buy as many EVE Echoes ISK as you like at the most affordable rate.
Step by step guide to buy EVE Echoes ISK from MMOPIXEL
To get your EVE Echoes ISK, your account has to have omega clone, if you don't have one, then we can't trade. Here is a step by step guide on how you can buy EVE Echoes ISK from MMOPIXEL.
Step 1 Enter the game selection page
If you are ready to buy the EVE Echoes ISK from MMOPIXEL, you will have to visit the selection page first. Here you will get the tab on game currency, take your cursor on it and you will see the names of all the games whose currencies are available on MMOPIXEL. Here you have to select EVE Echoes. It will take you to the product page.

Step 2 Go to the product page
Once you visit the product page here you will get the option of EVE Echoes ISK. There is an icon of coins which show that the currency is for the game. You have to click on the icon to reach the main product page of the golds from where you will be able to select the ISK that you are planning to buy.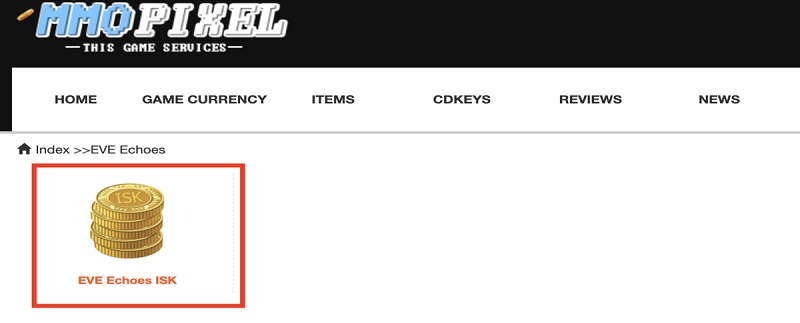 Step 3 Place the order
Choose the ISK amount you need and then add it to the shopping cart. When you fill out the order information, please confirm your character name carefully, including the symbols on the letters. If the name is incorrect, it may result in the delay of your order or unnecessary.